SlothTracker is a time tracking application that works on Windows, Mac and Linux.
Features
Intelligent Autocomplete
All fields are autocompleting based on previous inputs.
Overlap Detection
Automatically detects and informs you about overlapping tasks.
Keyboard Shortcuts
Every possible action is bound to a key, see documentation.
Detailed Reports
Display, search, filter, rename and analyze past tasks.
Data Import
Import data from other time trackers, see documentation.
Data Export
Export tracked tasks in csv format.
Total Data Privacy
We don't store or analyze your data.
No Subscription
Buy once, use forever. No subscription or hidden fees.
Desktop Application
Time tracking desktop software that works on Windows, Mac and Linux.
Screenshots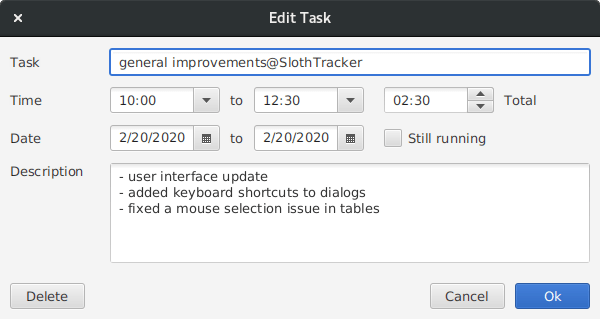 System Requirements
| | |
| --- | --- |
| MINIMUM | |
| Processor: | Core2Duo 2.0 Ghz |
| Memory: | 2GB RAM |
| Hard Drive: | 200MB HD space |
| | |
| --- | --- |
| RECOMMENDED | |
| Processor: | Core i5 |
| Memory: | 4GB RAM |
| Hard Drive: | 1GB HD space |
Download
You can download and evaluate SlothTracker for free, up to 30 days. For a continuous use, a product license has to be purchased.
Current version is 1.6.0. For a list of updates, see SlothTracker changelog.
Other Platforms:
If you are using an esoteric operating system or you don't want to install SlothTracker, you can still run it by executing a SlothTracker.jar file.
Prerequisites:
Installed JRE 11 or later.
Check the documentation for the necessary command line flags.
Download for Other (.jar) v1.6.0
Buy Now
You can download and evaluate SlothTracker for free, up to 30 days (no license needed). For a continuous use a product license has to be purchased.
After the payment is received, a license will be emailed to the email registered with your paypal account. In case you are paying via credit card, license will be emailed to the email specified in the paypal credit card form.
Licenses are per-user, so you can track your time on as many computers as you wish.
License is valid for one major version of SlothTracker. If you bought a license for SlothTracker version 1.2.0, the license is valid for all future versions up to version 2.0.0 (excluding 2.0.0).
30 Days Money Back Guarantee
If you are unhappy with the purchased software, you are eligible for a full refund in the first 30 days after the purchase was made.
Please contact us on our support email support [at] royalsloth [dot] eu and include either your invoice id or paypal account email from which the software was purchased.
Documentation
For SlothTracker documentation please check the following link. Make sure to also check the FAQ section below.
Support
Bug reports or new feature request should be filed on the Github issues page
Github issues page
Before sending support questions please check the FAQ section below. If FAQ section below did not answer your question or in case you have any payment/licensing or software problems please send an email to support [at] royalsloth [dot] eu
FAQ
Windows/Mac detected SlothTracker as a malware. Is it really a malware?

No it is not. If we wanted to distribute malware, we would pick a more popular field such as free Microsoft Office license key generator.

The scary looking dialogs are just their way of trying to bully application developers into buying their expensive code signing certificates.
I did not receive a license email after purchase

Please check if your paypal account was actually charged and wait for up to an hour to receive an email. If you still did not get the email, please send an email to support [at] royalsloth [dot] eu with either the invoice id or your paypal email address from which you paid for the license.
I am not happy with the purchase and I want a refund

Please see the money back guarantee section.
I've lost my license key

Sure it happens. Send us an email to support [at] royalsloth [dot] eu with the email of your paypal account from which you made the purchase and we will send you another license.
Can I use the same license on multiple computers?

Yes, you can install SlothTracker and use it on unlimited number of computers you own (even if their operating system differs).
If I can install the license on multiple computers, can I give the license to a friend?

Nothing prevents you from doing that. If they enjoy using the software, they can even buy their own. This means we may lose money due to license sharing, but that is still way better for the end users than registering / deregistering licenses every time you change computer.
There are multiple time trackers on the market, why would I use this one?

A while ago we had to track time for a project and after trying multiple trackers we realized there is no decent cross-platform desktop time tracker on the market.

Most of the trackers we could find, were over complicated web based tools for which you had to pay "just two coffee cups per month". You don't know what happens with your data, you can't use them offline, you can't buy once use forever like in the good old days. Long story short, we wrote our own that ticks all the checkboxes mentioned above. For a full story behind the development of SlothTracker see this blog post.

You are free to test SlothTracker for 30 days, who knows, maybe you will like it.
I want to share tracked time between multiple computers. Is this possible?

Not right now. If there will be enough demand for this feature we will add it in SlothTracker v2.0.0. You can of course share tracked time between computers by copying the database file over to another computer. Consult documentation on how to do that.
How do I report bugs or suggest new features?

Feel free to open an issue or vote on the existing one on Github issues page.

If you don't want to use Github, you are free to send us bug reports via email: support [at] royalsloth [dot] eu
I have an extensive time tracking done in <X software> Can I import tasks from there?

Yes, you can import a .csv file of tracked tasks. Check the documentation on how to do that.
I am afraid of the vendor lock in

I am as well, that's why you can export tracked tasks at any time - even if your trial period is over.
What kind of telemetry data do you store?

Telemetry data is not being stored anywhere and none will be in the future. Feel free to inspect the network traffic. You bought your software, all the data produced with it is yours and yours only. We have no interests in analyzing and reselling any kind of user produced data no matter how lucrative that business would be.

The purpose of this software is to produce the best time tracking software the money can buy.
Do I get a discount for buying hundreds of licenses?

No.
Is mobile app coming?

No. SlothTracker was developed for desktop usage only.
Thank you for purchasing SlothTracker. You should also receive your product license key via email on customer@email.com.
In case of any problems or if you did not receive your license key email (check your spam folder), feel free to contact us on support[at]email.com. Please include your invoice ID: orderId or send us a question from your paypal email listed above.
Processing your order, please wait